Contact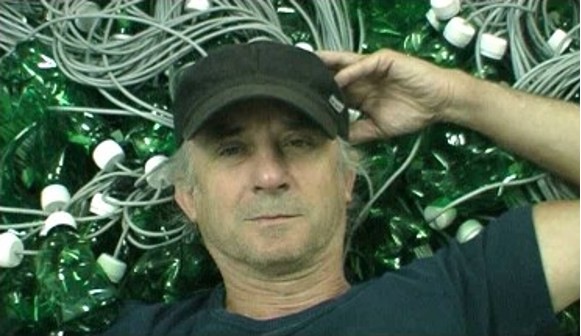 Francesco Mariotti
Francesco Mariotti
Via Fregera 6A, 6605 Locarno-Switzerland

Tel/WhatsApp CH: +41 (0) 79 3690425
Tel/WhatsApp PE: +51 955021189

Francesco has lived and studied in Switzerland, France, Germany and South America. While studying at the Academy of Fine Arts in Hamburg, he focused on the complex relations between art, nature and technology. After a long stay in Latin America in the 1970s, he experimented with the possible interactions between electronic and IT devices and the creation of multi-sensorial installations and works.


Francesco has participated in major international exhibitions, from Documenta in Kassel, 1968 to the Biennales in Sâo Paulo, 1969 and Medellin, 1979 as well as Expo in Osaka, 1991. He has carried out in-depth research on video installations and video art, becoming one of the organisers of the Video Art Festival in Locarno. In 2005, invited by biologist Stefan Ineichen, he participated in the first Festival of Fireflies in Zurich. This experience led to the development of the project 'Immigration' for the Park of Living Art in Turin and for the Symposion Lindabrunn near Vienna.
Since 2017, he works on the long-term project Firfeflies Memorial, a tribute dedicated to environmental defenders.
Francesco Mariotti lives and works in Switzerland and Perú

1943 Bern
1953 – 1961 Lima, Peru
1965 – 1969 Art studies in Paris and Hamburg
1977 – 1978 Teaches at the Art school in Lima, Peru
1982 - 1987 Collaborator of the Video Art Festival, Locarno
Exhibitions in public spaces (selectión)

1968
4 Documenta, Kassel (Alemania)
Projekt Geldmacher-Mariotti (con Klaus Geldmacher)
Curadoría: Documenta-Rat
1969
public eyes
Kunsthalle-Hamburg, Hamburg (Alemania)
Brushstroke-Wolke
1969 / 71
X Bienal Sâo Paulo-Brasil,
ART 70 Basel-Suiza
El movimiento circular de la luz
1972
Bienal de Coltejer, Medellin (Colombia)
Tríptico del Sol, la Luna y el Arco Iris (con Victor Delfin)
Curadoría: Leonel Estrada
1978 / 80
Arte al Paso (con Taller Huayco)
Lima - Perú
Salchipapas,
Sarita Colonia
1979
Bienal de Medellin (Colombia)
Ponte Duro
Curadoría: Leonel Estrada
1981
Universa Ars
Capo D'Orlando, Sicilia (Italia)
Videografie
Curadoría: Vittorio Fagone
1982
ART 82, Basel (Suiza)
Beer Story
1985
Kunst im Hammer
Kunstverein, Olten (Suiza)
Video - Escultura
Curadoría: Peter Killer
1986
Simposio
Formine (Italia)
RITA - Computerpoesia
Curadoría: Barbara Claassen
1987
Centro Cultural de la Municipalidad de Miraflores
Lima (Perú)
Sinfonía fantástica para una rana embrujada
Curadoría: Luis Lama
1988
Festival Videoart
Locarno (Suiza)
Poesía simultánea per una Rana,una Scimmia e un Pappagallo
Curadoría: Rinaldo Bianda
1990
Galería Mars
Moscú (Rusia)
GAIA Instalación interactiva
1990
Galerija Studentskog Kulturnog Centra
Belgrad Yugoslavia
GAIA Interaktive Installation
Curadoría: Biljana Tomic
1991
EXPO Garden & Greenery
Super Lucciola. Escultura solar (con Klaus Geldmacher)
1992
Festival Videoart
Locarno (Suiza)
Gran Guacamayo Precolombino Computerscultura
Curadoría: Rinaldo Bianda
1993
Kunstverein Salzgitter
Salzgitter (Deutschland)
LUCCIOLA. Ein biotechnisches
Kunstprojekt mit Glühwürmchen
(con Klaus Geldmacher)
1994
Europäisches Kulturzentrum
Erfurth (Alemania)
Die Erben des Dada Stella Nera
Curadoría: Jürgen Fischer
1996
Museo de Bellas Artes Caracas
Caracas (Venezuela)
Canto Cuántico
Usted va a acabar con todos los peces de este río.
Curadoría: Ydalia Molina
1996
Museo de Arte Lima
Lima (Perú)
El retorno de las Luciérnagas
Curadoría: Natalia Majluf
1996
Escuela Superior de Arte de la Nación
Ernesto de la Cárcova
Buenos Aires (Argentina)
Canto Cuántico
Curadoría: Oscar Smoje
1997
I Bienal Iberoamericana
Lima (Perú)
El Jardín Híbrido
Curadoría: Luis Lama
1998
Europäisches Kulturzentrum in Thüringen
Erfurt (Alemania)
The Hybrid Garden
Curadoría: Jörg-Heiko Bruns
1999
Diáspora,
Oviedo (España)
El Muro de las Lamentaciones
Curadoría: Orlando Brito
2000
Das erste 24 Stunden Kunstmuseum der Welt
Celle, Alemania
Quantenballett
Curadoría: Robert Simon
2000
Metamorphosen
Erfurt (Alemania)
Grosny
Curadoría: Jürgen Fischer
2001
Bienal Barro de América
Museo de Bellas Artes Caracas, Venezuela
Hojas pretexto de la luz.
Curadoría: María Elena Ramos
2001
Experimenta Design
Lisboa (Portugal)
El pensamiento es un jardín híbrido.
Curadoría: Emanuel Dimas de Melo Pimenta
2002
LICHTROUTEN
Lüdenscheid (Alemania)
Der Hybride Garten.
Curadoría: Bettina Pelz y Tom Groll
2003
VIDEOFORMES
Musée du Ranquet, Clermont-Ferrand, Francia
lo único que les ofrezco es sangre
Curadoría: Gabriel Soucheyre - José-Carlos Mariátegui
2004
E.P.S. Huayco, Una Retrospectiva
Centro Cultural de España, Lima-Perú Arte al Paso
Curadoría: Gustavo Buntinx
2004
Dos generaciones/una historia breve
Centro Cultural de la Universidad San Marcos, Lima-Perú
Lo único que les ofrezco es sangre
Curadoría: José-Carlos Mariategui
2005
Glühwürmchen Festival
Zürich, Suiza
Dance nuptiale des Lucioles
Curadoria: www.glühwürmchen.ch
2006
O Espirito da Descoberta
Trancoso, Portugal
El Jardín de Kaametza y Narowé
Curadoría: Emanuel Dimas de Melo Pimenta.
2007
Parco d'Arte Vivente, PREVIEW
Piazzale Valdo Fusi / Torino IT
Giardino Ibrido
Curadoría: Piero Gilardi / Ivana Mulatero
www.parcoartevivente.it
2007
LICHTBERLIN
Tiergarten, Berlin, Alemania
QUANTENBLUMENBALLETT
Curadoría: Susanne Rottenbacher / KatrinSöncksen
www.lichtberlin.de
2008
Spaventapasseri: Arte Sella Malga Costa , Val di Sella
Borgo Valsugana (TN) Italia Cubicolo
Curadoría: Enrico Fagone
2009
Subversive Practices
Art under Conditions of Political Repression
60s-80s / South America / Europe
Würtenbergischer Kustverein Stuttgart
Lavatorio artificial para uso especial
Idea y Concepto: Iris Dressler, Hans D. Christ
Curadores Perú: Miguel Lopez, Emilio Tarazona
2009
Landscapes Interventions
Symposion Lindabrunn, Austria
Tomatl
Curadoría: Kurt Weckel
2009
Smart Light
Sydney, Australia
Fireflies Fence
Curadoria: Mary-Anne Kyriakou
2009
Ausserdem
Ludwigsburg, Alemania
Quantenblumen und digitalem Brunnen
Curadoría: Robert Simon
2009
X Bienal de Cuenca
Cuenca, Ecuador
TOMATL, El retorno del Inmigrante
Curadoría: José Manuel Noceda
2009
Trienal de Chile,
Lo puro y lo contaminado
Santiago de Chile
Gran Guacamayo Precolombino
Curadoría: Gustavo Buntinx
2010
I Light, Smart Light Singapore
Marina Bay, Singapore
The Fireflies Fence
Curadoría: Mary-Anne Kyriakou
2010
Stoer-Zonen
Symposion Lindabrunn, Austria
D-Luciferin, The Fireflies Factory
Curadoría: Kurt Weckel
2010
ArtOrt
Heidelberg, Alemania
The Fireflies Fence
Curadoría: Jay Gonzales, Bernhard Fauser
2010
Narracje / Lost & Found
Gdansk, Polonia The Fireflies Fence
Curadoría: Bettina Pelz
2011
Kunstmuseum Celle
OLG Celle, Alemania
Der Hybride Garten
Curadoría: Robert Simon
2011
Visioni e Utopie della Modernità
m.a.x museo, Spazio Officine, Chiasso
The Fireflies Fence nel Punto piu estremo dell Svizzera
Curadoría: Nicoletta Cavadini, Dalmazio Dambrosioni
2011
Herbstsalon
VSL Symposion Lindabrunn, Austria
El criadero de Larvas
Curadoría: UMRAUM
2012
Noche en Blanco
Malecón Balta, Lima, Perú
La Frontera de las Luciérnagas
Curadoría: Christian Bendayan
2012
Symposion Lindabrunn
Neuland
Absolute Darkness
Curadoría: Kurt Weckel

2013
Arte y Optica
Fundación Telefónica, Lima, Perú
Milagros y Flores Cuánticas Curadoría:SeanCubitt 2015
Licht als Signal
Kunstverein Lüneburg, Alemania
Curadoría: Angela Schoop
2016
FIREFLIES
Stadtgärtnerei Zürich
El Vivero de los Milagros
2018
ISEA 2018 Durban
Firefleies Memorial
2019
ARTORT Heidelberg
Fieflies Memorial
2022
International Firefly Symposium
Parque Biologico de Gaia Porto / Portugal
Fireflies Pretext for Warning



Awards
Beca de estudios de la ciudad de Hamburg
Gran premio ciudad de Locarno, Video Art
Festival de Locarno por las obras Grande Scimmia 1986
Gran Guacamayo Precolombino 1991
Premio VIDA, Mención honorífica por el proyecto
The Fireflies Factory 2010 Primer Premio Arte Contemporanea Chiasso 2011 Leonardo Award, 50 Jahre Projekt Geldmacher-Mariotti 4 documenta Kassel 1968
Bibiography (Selection)
http://www.mariotti.ch/en/bibliography
2013
Arte y Optica
Catálogo La velocidad de las comunicaciones
Fundación Telefónica, Lima-Perú
2010
D- Luciferin
Catálogo Proyecto "La Granja de las Luciérnagas
2009
Tomatl,El retorno del Inmigrante
Catálogo para la X Bienal de Cuenca, Texto de Gustavo Buntinx
Mariotti, Francisco
Holzmarkt mit quanten-blumen und digitaler brunnen
Ludwigsburg, 2009
http://www.mariotti.ch/media/uploads/libros/AUSSERDEM.pdf
Subversive practices
http://www.mariotti.ch/media/uploads/libros/poster_engl.pdf
2008
Spaventapasseri / Scarecrow
Catálogo de la muestra
Editor: Enrico Leonardo Fagone
Arte Sella 2008
http://www.mariotti.ch/media/uploads/libros/Scare_Crow.pdf
Rodrigo Alonso
Emergentes
Arte y tecnología en América Latina.
Algunos conceptos y experiecias pioneras
Centro de Arte y Creación Industrial
Gijón, España
http://www.mariotti.ch/es/bibliography/2008/emergentes/
2007
Ecosoft
Un parco in movimento 2006/2008
PAV parco arte vivente
Centro d'arte contemporanea, Torino
Curadoría catálogo: Claudio Cravero
Eventi & Progetti Editore
http://www.mariotti.ch/media/uploads/libros/Ecosoft_Art_.jpg
Lichtberlin 2007
Catálogo
LICHTBERLIN 2007 Parcours Tiergarten
Textos: Christiane Meixner, Michael Schwarz
Editor: lichtberlin GbR
http://www.mariotti.ch/es/bibliography/2007/lichtberlin-2007/
D*LUX
Giardini Luminosi
textos: Enrico Leonardo Fagone
http://www.mariotti.ch/media/uploads/libros/D-LUX.pdf

Collections
ZKM Museum für Neue Kunst, Karlsruhe, Germany
Kunstmuseum Celle mit Sammlung Robert Simon, Germany
MALI Lima, Perú
Museo de Bellas Artes, Caracas, Venezuela Kunsthaus Zürich, Video Library
Sammlung Julius Bär, Switzerland
UBS, Locarno, Switzerland
Works in different public and private collections
Links